........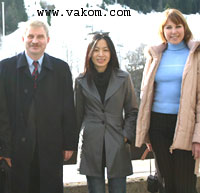 .........
Email from HTMi to VAKOM

Subject : THAI night @ HTMi
Dear Ally & Gai,

It is with pleasure that I inform you that the THAI night
at the school was a great success last week.


the students organised it very well, put up a great show and the food was simply excellent!!
everybody ejoyed themselves to the fullest and
spirits were very high.


Here are some pictures which I would like to share with you.

On behalf of everyone at the college, Thai students are very welcome and we will make every effort to
ensure that they evolve into future leaders and
also great ambassadors.


Best regards,


Shubhendu Chowdhry

International Public Relations Officer for HTMi

The School of International Hotel and Tourism
Management, Hotel Campus Mariental, Panorama

6174 Soerenberg, Kanton Luzern

Central Switzerland

Tel: +41 41 4881125

Fax: +41 41 488 2344

Website: www.htmi.ch