Southampton Solent University



Southampton Solent University

ตั้งอยู่ในแหล่งชุมชนที่ทันสมัยทางตอนใต้ของ
เกาะอังกฤษห่างจากกรุงลอนดอนนั่งรถ เพียง 1 ชั่วโมง


MA Fashion Merchandise Management (Full Time)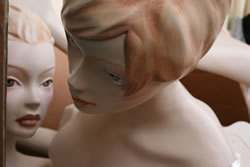 Length: 1 Year Full-time

Fees
Fees for the 2007 academic year are :

Full-time: Overseas students - £7,990 ( Jan 2008 intake)


Course overview

The goal of this new and stimulating Masters course is simple – to be an innovative, challenging and
inspiring Merchandise and Management programme for those who desire to be future leaders in the fashion
industry.


Delivering an innovative and relevant fashion merchandise curriculum, this course will equip you for a visual
merchandise management career at a senior level in the domestic or international fashion industry.

What is it?


This dynamic course offers an inside knowledge of industry strategies and cultures on a global basis,
combined with a strong underpinning of key research and business skills and essential fashion industry
management knowledge. It is a practically applied course that allows you to express your capabilities in
developing concepts for the future of retail space design.

Who is it for?


This course is ideal for you if you are a self-motivated individual who wishes to develop or enhance both
your career prospects and your intellectual and creative potential in the challenging field of visual
merchandise management, building on previous fashion and/or retail knowledge, skills and experience.

Research and practice

The key elements of this course will focus on research, with an emphasis on practical skills and portfolio
development, which assists in the proposition and exhibition of pioneering strategies within a retail industry
context. Working closely with industry professionals who will offer an insider knowledge of industry strategies
, these innovative approaches are encouraged through the analysis of new technological methodologies,
creative retail environments and innovation in display concepts for clothing collections.

Innovation

While creative aspirations will be supported through personal tutorials and group workshops, the emphasis
will be on innovation and the encouragement of the development of strategic and entrepreneurial vision.
These elements are key in expressing your capabilities in developing concepts for the future in design
through a stimulating portfolio of work.

What are we looking for?

This course is for individuals who can respond to challenges, are articulate and can contribute visual skills,
original ideas and a keen awareness of current issues in many areas of fashion retail. Graduates will have
increased employment prospects and be in a position to gain employment as innovators with the field of
visual fashion merchandise.

Course content

Retail Marketing and Management

A comprehensive study of fashion retailing as an operating system.

Retail Space Analysis and Design

Visual merchandising and branding and increased customer involvement with the product through the retail
store environment analysed through a series of case studies.

Marketing and Consumer Behaviour

Analysis of psychological and cultural factors in the creation and maintenance of human appearance.

Buying and Merchandising

The theory of fashion merchandising and its application to basic retailing procedures.

Enterprise Innovation and Futures

Looking at new ways of shopping and improving competition throughout consumer markets by seeking
sustainable market advantages through recognising and reacting to global issues.

Major Project

The creation of a design portfolio that will provide students with the opportunity to apply a range
of knowledge and skills developed on the course.

Dissertation

An original body of work that will culminate in the form a written topic proposed and negotiated by the student
Assessment

By project, report and dissertation.

Entry level

Entry to the course is based on either formal qualifications and/or significant industry experience in
combination with previously achieved formal qualifications. You should have a second or first class honours
degree in a fashion related discipline. An interview will normally be required.
You are expected to have good general knowledge and understanding of fashion, fashion retail and/or
related industries. If you do not have the formal qualifications you should have demonstrable industry
experience in one or more areas of the fashion industry, including retail companies, supply side or designer
businesses. Experience can also include working in industries that border fashion and creative knowledge
or education based industries, such as marketing.
We are looking for individuals who can respond to challenges, are articulate, can contribute original ideas
and have keen awareness of current issues in many aspects of fashion retail.

Career opportunities

A graduate on this course will have an advantage in the employment market in a number of roles e.g.


Visual Merchandiser
Buyer/Allocator
Merchandising
Creative Marketing
Consumer Behaviour Consultant
Store Planner/Designer
Retail Management
Own Business

Attendance

Postgraduate study is based on a balance between taught contact in seminars, lectures, tutorials and time
spent on independent research and study.

Special facilities

You will have access to fashion studios to design and make, workshops, multimedia suites, photography
studios, IT suites and the library.

Field trips

There are opportunities to take part in trips abroad to Paris, New York and Milan, as well as of course regular
trips to museums and exhibitions in and around London which are relevant to the pr
Industrial placements

We actively encourage you to seek relevant work experience within a fashion or design company while on
the course. This is part of the ethos of the fashion department, where flexible programmes and the strong
links with industry which have led to placements such as:

Trend Reporting for WGSN
Mudpie Design
Design at Jenny Packham
Marketing Department at Harvey Nichols


Checkland Kindleysides Internship Award

This award is specific to the MA Fashion Merchandise Management and it is anticipated that it will be one of
many offered in the future.

"Checkland Kindleysides are delighted to endorse this new course and look forward to working in partnership
with the University to offer our creative inspiration, project advice and the creation of a CK Internship award
in response to a 'live' brief we will provide"

Andy Turnbull, Creative Director, Checkland Kindleysides.|

check his Web here : http://www.checkind.com/
Question from VAKOM and Answer from Southamptopn Solent University
1.How much for the fee?
-The fees for the course for International students are £7990.

2. Can student get work experiece for this course, will they get paid?
-Regarding work experience, we we endeavout to assist students with
gaining work experience while on the course, this is not always paid, we
do not gaurantee this will happen and the students are responsible for
looking themselves as well for opportunities. We are offering the
Internship Award with Checkland Kindleysides for the best MA student, this
student will get a paid internship with the company upon finishing the
course!

3, Do student need to have Bachelor degree in Fashion Industry or any other relate filed?
-We would like the students to have a degree in a related field, if they
do not they can apply for the course if they have relevant working
experience in a similar area.

4. How many study per class, and nationality mix ?
- We are hoping for a group of 10 students for this course, we are hoping
that 3 or 4 of them will be international.


โทรสอบถามเพิ่มเติมได้ที่ 02- 391-1200